The Internet is the perfect place to match celebrities, wannabes and common people.
We all know it: the media has turned global, and that's it.
The funny side of it is that the lack of distance can turn into a neverending stream of information which can sometimes be completely useless hardly funny and easily embarassing.
Sometimes there's something going missing.
Right now, one of our favorite stars is setting up a real hate campaign on Twitter against a guest who attended her New Year's Eve party at her mansion in Sussex.
This woman, whose name is Chelsea White and appears to be a glamour model (here we go again...) has posted a video she took at the party on YouTube.
And Miss Katie Price is furious. As you can read on this message she posted on her Twitter account.
Because THAT was the night when Jordan's boyfriend Alex Reid allegedly hit poor Dane Bowers with one of his secret CageFighting kicks and almost destroyed his face.
And that would have been enough for Peter Andre to be willing to gain custody of their kids. Infact, they were sleeping in their rooms while the accident took place. And who would want to let his kids spend the night in a place where a man kicks the guts out of another man? Not even someone who spent the whole 90s with his bare chest covered in oil, showing off to crowds of horny girls would want that.
But above all, we think that Katie is furious because the video features some footage of herself
singing "Tell it to my heart" in THIS outfit: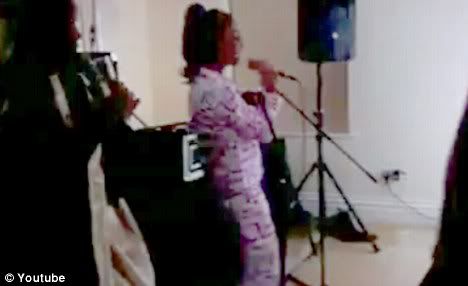 Quite scary, ain't it?
Poor Jordan. She still seems to be unable to cope with the darkest side of Postmodern Celebrity Status: when you stop showing off, there's always someone else who's ready to do it for you.
So, if you'd like to see how Chelsea White's face looks like before Katie Price cuts it off her head, throws it into her very own sunbed and turns it into an overcooked jacked potatoe, watch the EXCLUSIVE video below.