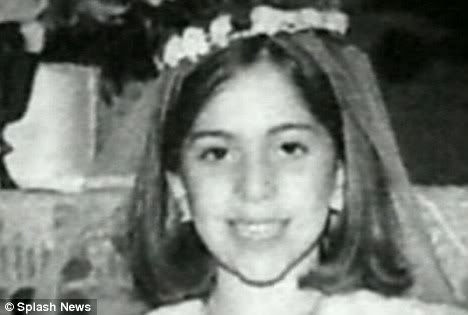 Lady GaGa showed some pictures from her childhood during
an interview with Oprah Winfrey.
Despite the HUGE difference between how she looked back then
and how she looks now, we must
say we see something familiar even in this little girl's face.
And that something is quite disquiting (forgive us for this wordplay).
It could be the sneer on the mouth,
or the complete absence you can notice in her eyes, probably
meaning that back on the day of her Confirmation
she was already planning and mentally rehearsing
the moves for the Bad Romance video choreography.
But we kind of see the seed of what she was meant to become
What we can definitely say is that those kids who's been raised
as catholics surely have something more special
compared to their coetaneous.
And that probably depends on the rebel spirit a kid surely
develops after being obliged to go to church every Sunday
and being pushed to sit down and get up
on wooden benches for fifteen times in a row.
it could be the church, it could be just talent,
it could be madness and self-exposure desire.
But GaGa was surely blessed since the days
when she was just a Germanotta.